HCaTS-8(a) SB Pool 1 and Pool 2
The Human Capital and Training Solutions (HCaTS) for 8(a) Small Business is one of the most important opportunities for 8(a) companies to ensure their success in the coming years.
On November 27, the General Services Administration (GSA) released the final solicitation for HCaTS-8(a) GWAC. This time, it is being released in two pools: Pool 1 for companies with NAICS codes 611430, 611699, 624310, and Pool 2 for NAICS codes 541611, 541612, 541613, 541618, 611710. But, you must be an SBA certified 8(a) to be able to bid on this GWAC.
The scope of this GSA bid is to acquire customized training and development services, customized human capital strategy services, and customized organizational performance improvement services for all Federal agencies at all levels.
The deadline for proposals is now March 16, 2020.
Below is detailed information about the opportunity. If you have last minute questions, or need proposal support / review, contact us as soon as possible at: 571-206-4460
HCaTS-8(a) SB in a Nutshell:
Item

Details

Agency:

General Services Administration (GSA)

Solicitation Number:

47QREB-20-R-0001

Status:

Full Solicitation was released on November 27, 2019

Proposal Due Date:

March 2, 2020 06:00 pm EST

NAICS Codes:

HCaTS 8(a) – Pool 1 NAICS Codes: 611430, 611699, 624310

HCaTS 8(a) – Pool 2 NAICS Codes: 541611, 541612, 541613, 541618, 611710

Contract Period:

Base Year Period of Performance (POP): Notice-To-Proceed to 9 November 2021
Five-year Option Year POP: 10 November 2021 to 9 November 2026
Six-Month Extension POP (if exercised): 10 November 2026 to 9 May 2027

Type of Contract:

Multiple Award IDIQ (GWAC)

Number of Awards:

Pool 1: 20

Pool 2: 20

Maximum Contract Ceiling Value:

$3.45 Billion for Pool 1 and $2.3 billion for Pool 2

Set-Aside:

Total Small Business Set‐Aside

Functional Areas:

Covers three (3) individual Key Service Areas (KSAs):

1: Customized Training and Development Services

2: Customized Human Capital Strategy Services

3: Customized Organizational Performance Improvement

Partnering:

Joint Ventures IS now allowed – Subcontracting is NOT allowed.

Specific Requirements:

Essentially need to provide Six (6) past performed contracts that have the highest past performance rating and are within the 3 KSAs mentioned above with extra scores for federal contracts, contract value, number of KSAs covered, period of performance, multiple subs, cost reimbursement, etc. The prior performed contracts must have been completed within the last 5 years or be ongoing with at least 3 months of performance. Past performed contracts can be Federal or Commercial. All contracts must have been performed as Prime (performance as a subcontractor is not allowed). Four out of the Six contracts must be Pool 1 NAICS.

Evaluation:

This is a self-scoring system with a total possible score of 28,470. The division of the scoring is:
– Experience: 13,235
– Past Performance: 15,000
– Accreditations/Certifications: 160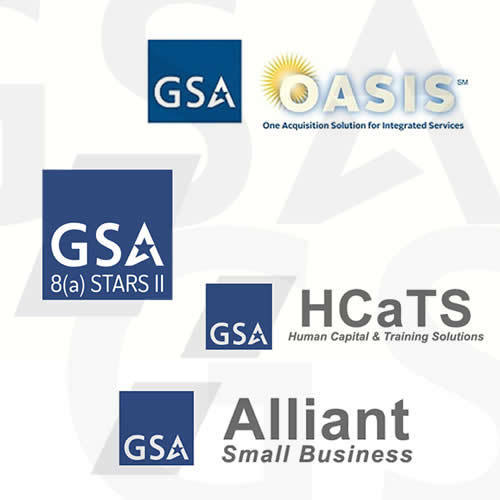 Why GDIC Excels?
General Services Administration is a major source of US government business opportunities in all sectors of industry. In recent years, GSA has been using more of the new contracting vehicle and solicitation evaluation framework called Self-Scoring Proposals rather than from the traditional proposals mainly consisting of Management, Technical and Pricing section. By getting the contractors involved in the scoring process so that they become better aware of their strengths and weaknesses, GSA hopes that the outcome of this process is higher quality and better managed contracts at lower costs to the government. However, the new system has its complexities, and very few contractors can take advantage of the full potential of these solicitations to secure contracts.
GDI Consulting has been working on GSA proposals for years, and is an expert in Self-Scoring contract vehicles, both from GSA (e.g. OASIS, Alliant, VETS, and HCaTS) and other agencies (e.g. SEC OneIT) with over 100 proposal completed and many wins. We provide consultation, full proposal development, and also proposal review services at different stages of its development. So, whenever you decide to enter into a Self-Scoring federal bid, let our vast experience bring out the best of your corporate assets and professional capabilities and support you in winning your desired contract.