OASIS+ Final RFP Webinars Q&A
GDI Consulting conducted 8 webinars in late June 2023 on GSA OASIS Plus  after the final RFPs were issued on June 15, 2023. Below are some of the questions and answers discussed during those webinars.
You can watch a replay of those webinars through the links in the Webinars page.
If, at the time that the proposals are due (13th of September 2023, if there is no extension), your FCL is in the pending state, it will not be accepted. So you need to push your contracting office and/or agency that is following it to provide you with an ACTIVE FCL before that date.
Yes, you can use such past performance as your QPs but not as FEPs (Federal Experience Project). Note that to prove relevance and other score points, you need to get the J.P-3 form filled for each QP and get it signed by the state buyer/purchasing officer.
Please go to the free partnering hub we have created and try to market your WOSB standing. You might find larger companies who are NOT WOSB willing to come behind you and provide their contracts in a partnership. Here is the link: https://partneringhub.gdicwins.com
If the domains you are going are any of R&D, M&A, T&E, or INTEL, then yes, you can use all those Functional Categories mentioned in 2.4 as a Distinct Functional Area under Integrated Experience for each QP. If your target domain is Logistics, Facilities, or Environmental, then no you can't use it. For Integrated Experience on these 3 domains, you use the sub-areas under that same domain you are going after, e.g., if you are going for the Facilities domain, then to get points for Integrated Experience, you must show that you had 3 or more sub-areas under the Facilities domain itself to get the extra 1 point.
It is mentioned in the RFP that the profit should not be over that. See page 175.
If you mean J.P-4, no you don't need to submit it, but you have to prove relevance for your QPs either through the Auto-Relevant NAICS or J.P-3 or SOW/CLIN structure.
This must be submitted with your proposal but is only required for the UNR track.
No, you don't need an FCL to bid as a prime.
If both you as the prime and the SB MP JV are going after the same domain and same set-aside track (like WOSB or 8(a)), yes, it will be rejected. So, either the domain must be different, or the track must be different, so perhaps you, as the prime, should go for the WOSB, and the MP JV should go for the 8(a) track, as an example.
Essentially grants and coop agreements are not allowed for any domains anywhere in QPs or FEP. Under the R&D domain, they have included an exception where you can only use grants and Coops for the Advanced R&D factor
If your JV is not an MP JV, then ALL the contracts you will use from the JV itself or any of its members must abide to the limits as explained in the webinar, i.e., the full minimum annual values for the domain you are going after. There is no halving allowed.
The pricing you need to provide at the IDIQ level is not for material or equipment. It is for different labor categories. But at the  Task Order level (when you are awarded a contract on OASIS Plus), then depending on the Task Order, you can provide pricing on all material and equipment used in a project unless prohibited explicitly in that particular task order.
Yes, you do, even though they might not be relevant to your domain. You don't want to give the reviewers any pretext to disqualify you, and the Pricing sheet is one of them, so fill it up entirely and thoroughly.
1. You cannot use this  TO or multiple  TOs to create a collection of task orders  for the QP. Because you have to be the prime owner of the Single Award IDIQ and you are not (the prime company that you are subcontracting are).
2. You can use the TO as a standalone contract and use it as a QP (if it is above the minimum annual threshold for the  domain you are after). You have to get the prime to fill out J.P-3 form and sign it for proof of relevance and other point scores.
Here is the link to the partnership site: https://partneringhub.gdicwins.com
Request Free Consultation
Take advantage of GDIC's free consultation on federal solicitations: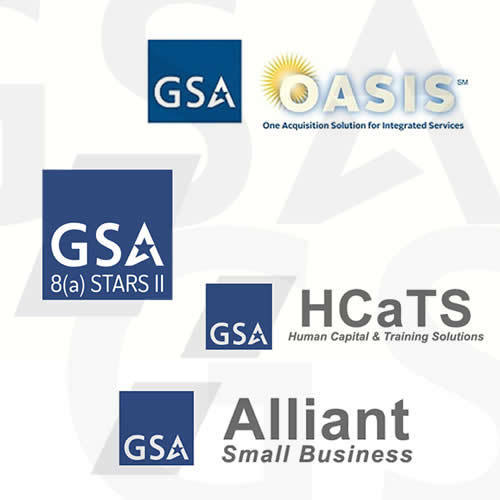 Why GDIC Excels?
General Services Administration is a major source of US government business opportunities in all sectors of industry. GDI Consulting has been working on GSA proposals for years, and is an expert in GSA solicitations, both Self-Scoring contract vehicles from GSA (e.g. OASIS, Alliant, and HCaTS) and other contract vehicles such as STARS II, and now STARS III.
We provide both full service proposal development for as well as review services. In case you are preparing your proposal in-house, our team will provide color team reviews as part of proposal support. This service, in compliance with the Shipley color-coded process of reviewing a document, will ensure that your proposal will have the utmost quality in all sectors from grammar and spell check to winning strategy solutions.
To obtain more relevant information on GSA solicitation, or in case you have technical questions, we provide free consultation and you can fill the provided form or contact us and we will setup a time to answer your questions.